Advanced LASIK Technology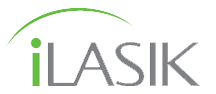 iLASIK is a revolution in LASIK surgery. It represents the pinnacle of blade-free, fully customized laser vision correction, and is the premium LASIK solution available in the world today.
iLASIK is:
100% blade-free – combines all the latest all-laser technology.
100% customized – tailored to the unique characteristics of your eyes.
Incredibly safe – one of the safest medical procedures in the world.
Highly effective – the majority of patients experience 20/20 vision or better.
Fast & virtually painless – it only takes a few seconds to correct each eye.
Suitable for almost everyone – more people treated than ever before.
How Does iLASIK work?
Creating your personalized vision profile: The first step in the iLASIK procedure is to perform a wavefront diagnosis using the WaveScan WaveFront System. Your eye is unique—as personal as your fingerprint or your DNA. The WaveScan WaveFront system creates a 3-D map that provides detailed information of your vision correction requirements to develop a personalized laser vision correction plan.
Making the LASIK flap: The iLASIK procedure EXCLUSIVELY uses a process called the IntraLase method to create a personalized thin LASIK flap that is folded back in preparation to gently reshape the cornea. Studies have shown that flaps created with the IntraLase method have fewer complications and greater stability than flaps created with a blade.1-3 Eighty-one percent of patients choose bladeless LASIK over traditional LASIK with a blade when given the choice.
Delivering the personalized iLASIK correction: Once the LASIK flap has been made, a second, ultra-precise "cool" laser is used to gently reshape the cornea to the desired curvature, based on the digital information from your personalized WaveScan WaveFront map. With your laser vision correction made, your doctor will reposition the LASIK flap, and your iLASIK procedure is complete. Many people sit up and immediately notice dramatically improved better vision.
The IntraLase® Method for a Blade-Free LASIK Experience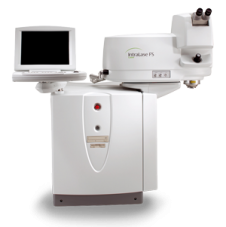 We know the decision to have LASIK surgery is a big one, so we take great care to determine what's best for you as our patient. That's why we offer blade-free LASIK treatment using the IntraLase method. With the IntraLase method, pulses of laser light create your corneal flap, which is then lifted so the next step of LASIK—the reshaping of your cornea — can be performed. When your LASIK treatment is over, the flap is securely repositioned into place. This bladeless, computer-guided technology is more accurate than most of the mechanical microkeratomes (hand-held devices with a thin metal blade) that surgeons may also use to create a corneal flap.
IntraLase Assurance and Comfort
The IntraLase method has been used successfully on hundreds of thousands of eyes and we trust this advanced technology to deliver exceptional results. Our commitment is to provide you with the ultimate in comfort, safety, and outstanding vision. LASIK with IntraLase can help you achieve all of this—while it delivers the added assurance of knowing you're being treated with the most advanced technology there is.
LASIK performed with IntraLase is preferred by patients.
In a survey of clinical practices, the vision in the IntraLase-treated eye was preferred up to 3 to 1 by patients over the vision in the mechanical blade–treated eye (among those who stated a preference). LASIK performed with IntraLase delivers superior visual results. In a clinical study comparing the IntraLase laser to the leading microkeratome, more patients achieved 20/20 vision or better in standard and custom LASIK surgery when the IntraLase method was used to create the corneal flap.
How the IntraLase Method Works
Unlike mechanical instruments, IntraLase technology is uniquely able to program the dimensions of your flap based on what's best for your eye. Then the IntraLase laser creates your flap from below the surface of the cornea—without ever cutting it. How?
Ultra-fast pulses of laser light position microscopic bubbles at a precise depth determined by your doctor.
The laser light passes harmlessly through your cornea. Then the laser creates rows of these bubbles just beneath your corneal surface as it moves back and forth across your eye in a uniform plane.
Next, the IntraLase laser stacks bubble around your corneal diameter to create the edges of your flap. These bubbles are stacked at an angle that is determined by your doctor and is individualized to the way your eye is shaped.
The process takes only about 30 seconds from start to finish— it's quiet and it's comfortable.
Your doctor then gently lifts the flap to allow for the second step of your LASIK treatment. When treatment is complete, the flap easily "locks" back into position and rapidly begins to heal.
Because of the superior accuracy of the IntraLase method, certain patients who were ineligible for LASIK may now be able to have treatment. Ask your doctor today if you are a candidate.
To see the new science of LASIK click here.