LASIK at Minnesota Eye Consultants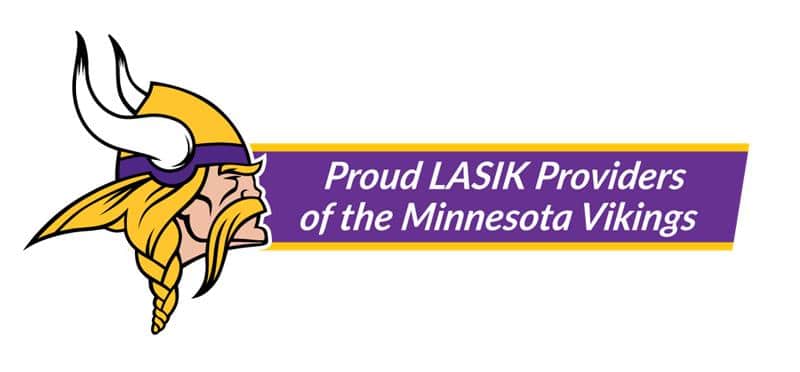 You want to know you're getting the safest, most trusted treatment available. At Minnesota Eye Consultants, we take great care to determine not only what is best for you as our patient, but also as an individual.
Minnesota Eye Consultants' eye doctors are regarded as true leaders in the development of laser eye surgery, from its inception to the approval by the Food and Drug Administration. We have stayed committed to pursuing research, training, and development in refractive surgery.
The practice serves as a teaching facility, training ophthalmologists, and clinic professionals across the globe.
Why Choose Minnesota Eye Consultants?
While we have continually been at the forefront of refractive technology and innovation, our physicians are also international experts in their fields with a comprehensive understanding of the whole health and function of the eye – cornea, glaucoma, cataract, dry eye, and oculoplastics. You can be assured that we will take care of your eyes, no matter what the problem.
Our surgeons are subspecialty fellowship-trained. This means they have extensive training over and above what is required to practice ophthalmology. Several of our surgeons also hold patents for innovations in eye surgery technology.
We performed the first surgery LASIK in the state of Minnesota. Our practice was selected as one of the original five sites throughout the U.S. to investigate the excimer laser and present its safety and efficacy to the FDA prior to its approval in 1995.
We have the most advanced equipment available, which enables the surgeon to obtain the most accurate and precise results.
If it is determined that you are not a candidate or your surgeon thinks another option may be better for you, we can offer an array of alternatives to obtain your desired outcome.
We are the only private anterior segment practice in the Twin Cities area that has a dedicated research department committed to improving patient care and surgical outcomes.
Ask your family eye doctor about us, or look through the patient testimonials on our website. Our reputation speaks for itself.
Other doctors refer their patients to us if they have unusual eye health conditions or complicated cases.
We are The Preferred Ophthalmologists of the Minnesota Vikings. Professional athletes that have limitless options choose Minnesota Eye Consultants.
Our standard price is in line with the national and local averages for practices that utilize the same premier technology that we do.
We do not discount or coupon this procedure because we view refractive surgery as an important medical decision – not an assembly line procedure.
Before and After LASIK
Slide the arrow to the right to see the clarity LASIK can provide.
What is LASIK?
LASIK eye surgery is a vision correction procedure that reduces or eliminates the need for glasses or contacts for people with refractive errors such as nearsightedness, farsightedness or astigmatism. During LASIK eye surgery, your doctor reshapes the cornea using state-of-the-art laser technology, resulting in clearer vision.
Our LASIK Surgeon uses two lasers:
Femtosecond laser
(to create a thin corneal flap)
Excimer laser
(to reshape the cornea to desired curvature)
Customized Blade-Free Intralase (iLASIK)
Minnesota Eye Consultants offers the most advanced LASIK technology, called Intralase, or iLASIK. Intralase is a fully customized blade-free LASIK procedure. When you undergo an Intralase procedure, you get the most custom, individualized LASIK procedure possible.
WaveScan WaveFront System Mapping
Your eye is unique—as personal as your fingerprint or your DNA. Minnesota Eye Consultants uses the WaveScan WaveFront system to create a 3-D map of your cornea. This provides detailed information on your vision correction requirements to develop a personalized treatment plan, just for you.
All information gathered from the WaveScan WaveFront System is used during your LASIK procedure and helps develop your custom laser vision correction plan for your surgeon.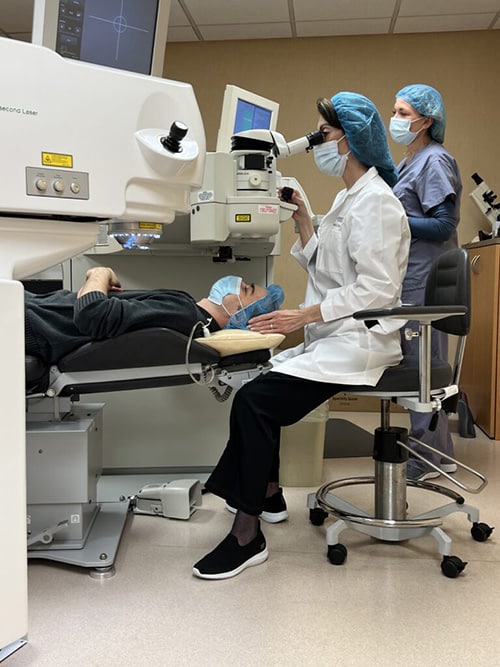 Who is a Good Candidate for LASIK?
LASIK can be a life changing procedure, allowing you freedom from glasses and contacts, but certain individuals are better suited for the procedure than others.
You may be a good LASIK candidate if you:
are tired of glasses and contacts
are at least 18 years old
are not pregnant or nursing
have a stable prescription for at least one year
are free from eye injuries and infection
are not suffering from dry eye syndrome
have overall healthy eyes and appropriate corneal thickness
don't have corneal diseases or cataracts
The best way to determine if you are a LASIK Candidate is to schedule a consultation with one of our LASIK Specialists. This consultation is free for most patients – call our office to learn if you'd be eligible for a free LASIK screening. We can determine if LASIK is right for you or we can explore your options for LASIK alternatives.
LASIK Alternatives
If you don't qualify for LASIK, it doesn't have to mean the end of your vision correction journey. Though LASIK is the most popular procedure, there are plenty of other excellent methods of correcting your vision. Visit our LASIK Alternatives page to learn more about these refractive treatments!
At Minnesota Eye Consultants, we offer the following LASIK alternatives:
The Official LASIK Partner of the Minnesota Vikings!
Minnesota Eye Consultants is the proud LASIK partner of the Minnesota Vikings. We are humbled to be trusted with your vision and look forward to providing LASIK surgery to help you tackle your next adventure.
Recently caring for Harrison Smith (Safety for the MN Vikings) and C.J. Ham (Fullback for the Vikings), listen as they talk about their experience with refractive surgery at Minnesota Eye Consultants.
What Our Patients are Saying: