LASIK Eye Surgery
The surgeons at Minnesota Eye Consultants are widely regarded as the premier eye surgery specialists in Minneapolis and the greater Minnesota area. Our physicians are international experts in their fields with a comprehensive understanding of the whole health and function of the eye – cornea, glaucoma, cataract, dry eye and oculoplastics. We were the first practice to perform LASIK in Minnesota in 1994 and we've continually been on the forefront of refractive technology and innovation. Expand the section below to learn more about what makes us a top choice LASIK provider.
What is LASIK?
LASIK eye surgery is a vision correction procedure that reduces or eliminates the need for glasses or contacts for people with refractive errors such as nearsightedness, farsightedness or astigmatism. During LASIK eye surgery, your doctor reshapes the cornea using state-of-the-art laser technology, resulting in clearer vision.
Customized Blade-Free Intralase (iLASIK)
Minnesota Eye Consultants offers the most advanced LASIK technology, called Intralase, or iLASIK. Intralase is a fully customized blade-free LASIK procedure. When you undergo an Intralase procedure, you get the most custom, individualized LASIK procedure possible.
Our LASIK team uses two lasers:
Femtosecond laser (to create a thin corneal flap)
Excimer laser (to reshape the cornea to desired curvature)
WaveScan WaveFront System Mapping
Your eye is unique—as personal as your fingerprint or your DNA. Minnesota Eye Consultants uses the WaveScan WaveFront system to create a 3-D map of your cornea. This provides detailed information on your vision correction requirements to develop a personalized treatment plan, just for you.
All information gathered from the WaveScan WaveFront System is used during your LASIK procedure and helps develop your custom laser vision correction plan for your surgeon.
Who is a Good Candidate for LASIK?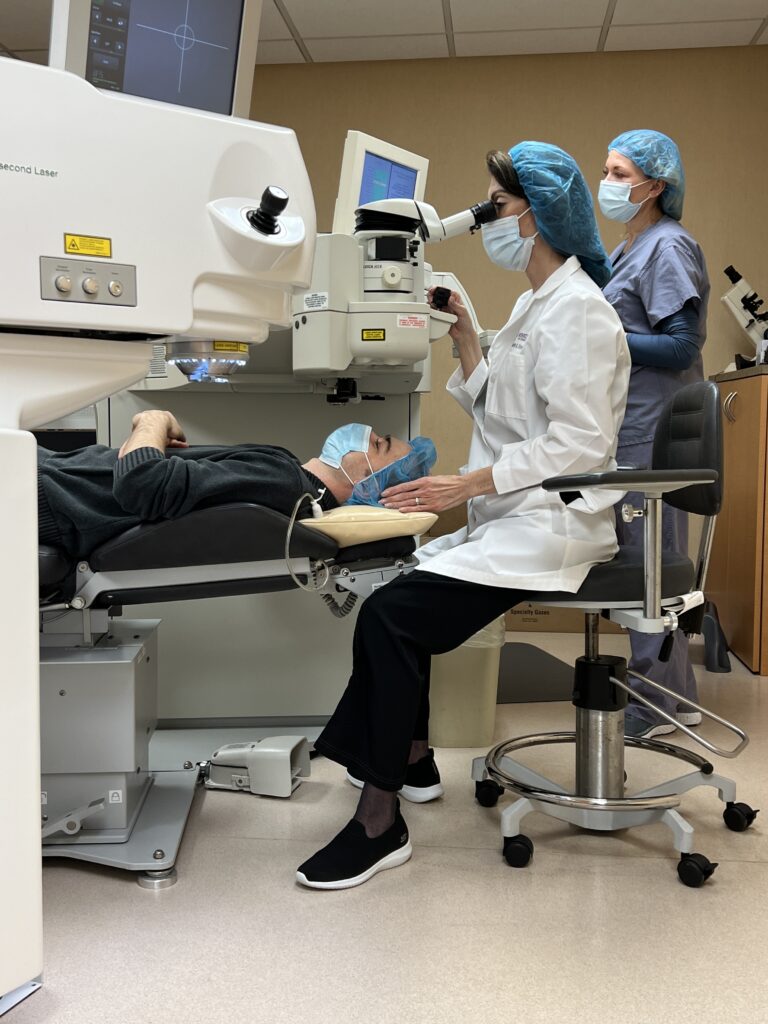 LASIK can be a life changing procedure, allowing you freedom from glasses and contacts, but certain individuals are better suited for the procedure than others.
You may be a good LASIK candidate if you:
are at least 18 years old
are not pregnant or nursing
have a stable prescription for at least one year
are free from eye injuries and infection
are not suffering from dry eye syndrome
have overall healthy eyes and appropriate corneal thickness
don't have corneal diseases or cataracts
are tired of glasses and contacts
The best way to determine if you are a LASIK Candidate is to schedule a consultation with one of our LASIK Specialists. (This consultation is free for most patients – call our office to learn if you'd be eligible for a free LASIK screening.) We can determine if LASIK is right for you or we can explore your options for LASIK alternatives.
LASIK Alternatives
If you don't qualify for LASIK, it doesn't have to mean the end of your vision correction journey. Though LASIK is the most popular procedure, there are plenty of other excellent methods of correcting your vision. Visit our LASIK Alternatives page to learn more about these refractive treatments!
At Minnesota Eye Consultants, we offer the following LASIK alternatives:
The Official LASIK Partner of the Minnesota Vikings!

Minnesota Eye Consultants is the proud LASIK partner of the Minnesota Vikings. We are humbled to be trusted with your vision and look forward to providing LASIK surgery to help you tackle your next adventure.
Recently caring for Harrison Smith (Safety for the MN Vikings) and C.J. Ham (Fullback for the Vikings), listen as they talk about their experience with refractive surgery at Minnesota Eye Consultants.
What Our Patients are Saying:
Our Minnesota LASIK Surgeons