Corneal Collagen Crosslinking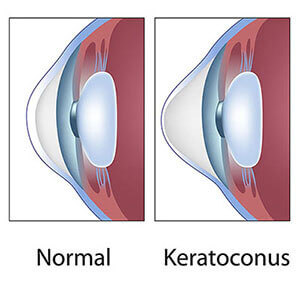 Corneal Collagen Crosslinking (CXL) is a technique that uses ultraviolet (UV) light and a photosensitizer called riboflavin (liquid vitamin B2) to strengthen the cornea and attempt to reduce the progression of Keratoconus (KCN) or post-LASIK ectasia.
A healthy cornea is shaped like a basketball (spherical), while patients with Keratoconus or corneal ectasia have irregularly shaped corneas, appearing more like the pointed end of a football. When the thin cornea bulges outward, it leads to impaired vision.
Keratoconus is progressive, meaning there is a high chance it will continue to worsen with time. Crosslinking of collagen refers to the ability of collagen fibers to form strong bonds with other fibers. Collagen cross-linking occurs naturally with aging, which may be one reason why KCN progression is thought to slow with age.
As the disease progresses, continued thinning and scarring take place, creating a need for a corneal transplant for the patient to be able to see well. Crosslinking allows our doctors to treat the disease early, before scarring takes place, and reduce or eliminate the need for a transplant entirely.