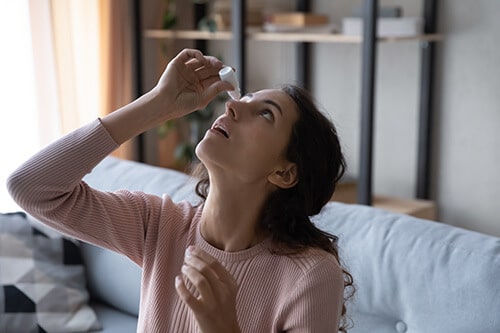 Treatment of Ocular Surface Disease
Initially, Dry Eye/Ocular Surface Disease is usually treated with topical lubricating drops (artificial tears) applied up to six times daily. Ointments are at times prescribed for nighttime use as well.
Commercially available drops should not be used more frequently because they often contain detergent-based preservatives. Overuse of these drops can cause a disruption of the tear film and irritation to the surface of the eye, which aggravates the dry eye condition.
Artificial tears can be used to prevent irritation and other symptoms, however, using the drops after the eyes become irritated is not as effective.
At-Home Treatments
There are some things you can do at home to help treat Ocular Surface Disease. Keeping clean, healthy eyelids can help ease discomfort and may reduce some symptoms. We typically recommend a combination approach in order to maintain the best environment for your eyes. This treatment consists of Hydration, Fish Oil Supplements, Warm Compresses, Lid Hygiene and Lubrication.
Ask your Ocular Surface Disease specialist for more information about caring for your eyes at home.