Dynamic wrinkles are caused by contractions of the delicate underlying facial muscles every time you smile, laugh or frown. The more emotion you show, the deeper these wrinkles and lines are likely to be. While you may have earned every one of your worry lines, you don't have to show them anymore.
BOTOX® – For Frown Lines and Crow's Feet

The procedure known as cosmetic denervation uses BOTOX® injections to improve the appearance of worry lines, frown lines, laugh lines, crow's feet and other dynamic wrinkles.
Become a member of the Brilliant Distinctions™ Program and receive special offers and exclusive invitations. Enjoy all the program has to offer! Click here to learn more.
---
XEOMIN
With the new FDA approval for cosmetic use, Xeomin now joins the ranks of Botox Cosmetic to reduce frown lines, wrinkles around the eyes and forehead. Worldwide, more than 84,000 people have been treated with Xeomin injections.
The U.S. is actually the 20th country to approve this new drug. It will be available in 50-unit and 100-unit vials. This Botox alternative was already approved for use in adults with cervical dystonia and blepharospasm. Cervical dystonia is characterized by abnormal neck pain and movements, and blepharospasm is marked by abnormal, involuntary blinking or spasm of the eyelids. Xeomin is manufactured by Merz Pharmaceuticals.
Xeomin (IncobotulinumtoxinA) is made from the bacteria that causes botulism. Botulinum toxin blocks nerve activity in the muscles, causing a temporary reduction in muscle activity. Is Xeomin better or worse than Botox?
Unlike its predecessors, Xeomin does not need to be refrigerated. This may be an advantage when it comes to distribution. What's more, Xeomin is"naked." There are no additives — just botulinum toxin type A.
This may lessen a patient's likelihood of developing antibodies to Xeomin. When your body senses a foreign invader, it responds by creating antibodies and launching an attack. If this were to occur with a neurotoxin such as botulinum toxin type A, it may not have its desired effects.
What are the risks?
There is a risk that all botulinum toxin products may spread from the area where they were injected into other parts of the body, causing potentially life-threatening swallowing and breathing problems. This was predominantly seen in children treated with Botox off-label for cerebral palsy. These issues have not been reported among people who received botulinum products for cosmetic uses or to treat blepharospasm.
Other risks may include:
Bleeding
Bruising at the injection site
Allergic reactions such as itching, swelling, or shortness of breath.
Your doctor should discuss all the potential risks of this procedure with you during your consultation.
---
Juvéderm™

As we age, our skin changes. Over time, the natural volume of youthful skin begins to diminish as wrinkles and folds form. But, with Juvéderm™ injectable gel, you don't have to just sit back and let it happen! Recently approved by the FDA, Juvéderm™ injectable gel is a "next-generation" dermal filler. The smooth consistency gel helps to instantly restore your skin's volume and smooth away facial wrinkles and folds, like your"smile lines" or "parentheses" (nasolabial folds—the creases that run from the bottom of your nose to the corners of your mouth).
Juvéderm™ is a smooth consistency gel made of hyaluronic acid—a naturally occurring substance in your skin that helps to add volume and hydration. Your healthcare professional eases Juvéderm™ injectable gel under the skin to provide a smooth, natural look and feels—so everyone will notice (but no one will know)!
In fact, studies show superior results of Juvéderm™ compared to a collagen-based dermal filler.* And, almost 90% of all study volunteers who were treated with both Juvéderm™ injectable gel and another dermal filler* preferred Juvéderm™! In addition, Juvéderm™ injectable gel is the first FDA-approved hyaluronic acid dermal filler that is proven to be safe and effective for persons of color.
How Juvéderm™ Works
Juvéderm™ injectable gel is a non-surgical, physician-administered treatment. Your healthcare professional eases Juvéderm™ under the skin using a fine needle to augment, or fill, the soft tissue of the dermis—the dense inner layer of skin beneath the epidermis—to add volume and diminish wrinkles and folds. Juvéderm™ injectable gel is used most effectively for those wrinkles and folds in the lower third of your face, like your"laugh lines," "smile lines" or"parentheses" (nasolabial folds), or"marionette lines" (oral commissures).
Juvéderm™ is a"next-generation" filler. It is made from hyaluronic acid—a naturally occurring substance in your skin that helps to hydrate and add volume. Hyaluronic acid may diminish with age, contributing to the formation of wrinkles and folds. Juvéderm™ injectable gel works to correct this by restoring hyaluronic acid in your skin, helping to smooth wrinkles and folds.
Juvéderm™ Ultra and Juvéderm™ Ultra Plus are indicated for injection into the mid to deep dermis for correction of moderate to severe facial wrinkles and folds (such as nasolabial folds). Side effects were usually mild to moderate lasting 7 days or less and included temporary injection site reactions like redness, pain, firmness, swelling, and bumps.
---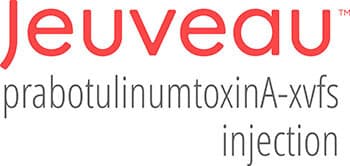 Jeuveau®
We are excited to now offer Jeuveau® (prabotulinumtoxinA-xvfs) to our cosmetic patients! Jeuveau® is an FDA-approved prescription medicine that is injected into facial muscles and used to temporarily improve the look of moderate to severe frown lines between the eyebrows (glabellar lines) in adults.