4 'Tricks' for Halloween Safety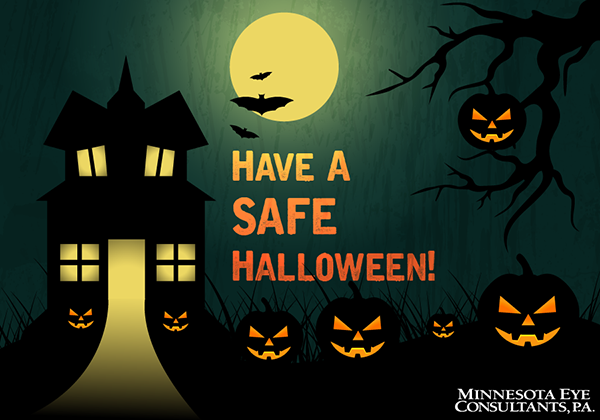 With Halloween approaching, we wanted to offer up a few tips to keep your family safe while enjoying this 'spooky' holiday!
Make-Up
Everyone loves a scary mask, but unfortunately, many don't fit correctly, causing obstructed vision as a result. In place of a mask this year, encourage your child to use non-toxic make-up for their costume instead. FDA approved make-up is considered safer than wearing a mask, as long as it's applied and removed carefully. Be sure to follow the make-up guidelines in regards to application and use "eye-safe" products around the eye area.
Accessories
Of course the swords, tridents and sticks are supposed to appear scary and dangerous, but we want to ensure they aren't actually harmful. To avoid accidents with these objects, make sure they are not too long or too sharp. Better yet – buy the ones that are soft and flexible!
It's commonly recommended to also avoid wigs and eye patches, as they can often slip and block your child's vision. Be sure to secure any scarves or hats so they don't fall into their line of vision as the night goes on.
Stick out!
Just as important as your child being able to see well through their costume, make sure others can see your loved ones as well! Carry a flashlight and make sure all obstacles are well lit, including walkways and stairs. Reflective attire is also recommended to ensure you're spotted in the dark! Many kids add reflective tape or stripping to their costumes and Trick-or-Treat pails.
Decorative Contact Lenses
Cosmetic contacts are generally safe to use if prescribed by and worn under the supervision of your eye care physician. As a medical product, you never want to purchase decorative contacts from anyone other than a medical practice, not to mention it's illegal to do so. Wearing these contacts without a proper prescription and contact lens fitting appointment can be very dangerous and can lead to serious eye problems, including vision loss.
From everyone at Minnesota Eye Consultants, we'd like to wish you and your family a very safe and memorable Halloween!