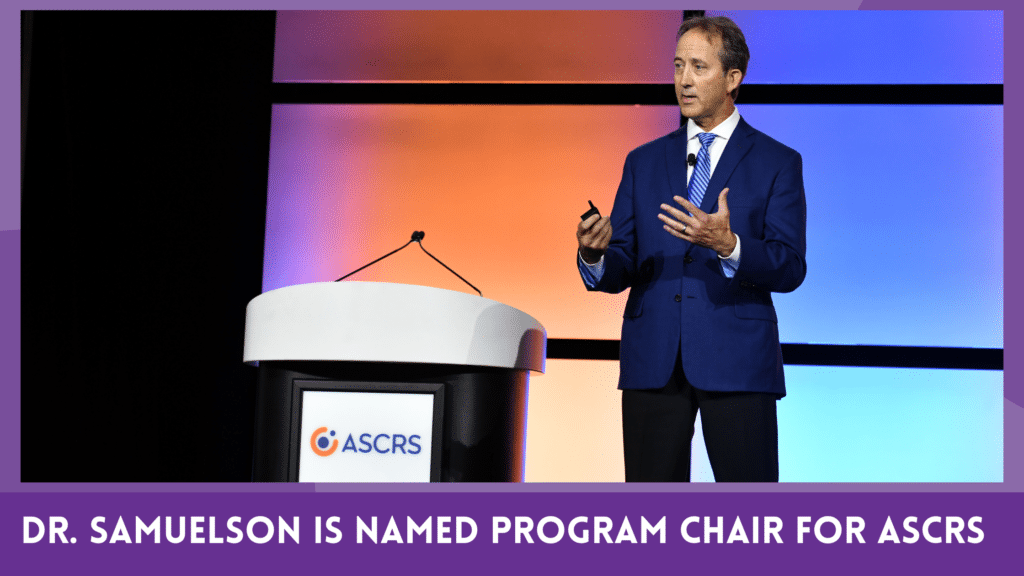 We are very proud of Dr. Thomas Samuelson who was recently named the program chair for the American Society of Cataract and Refractive Surgery (ASCRS). Dr. Samuelson, who specializes in Glaucoma, Cataract, and Refractive Surgery, has been an integral part of ASCRS for many years. He is honored to be a part of a prestigious ophthalmic society like ASCRS.
"I consider it a tremendous honor to become just the fourth program chair in the history of ASCRS, the premier ophthalmic surgery society in the USA," Dr. Samuelson said.
ASCRS's mission is to empower anterior segment surgeons with advanced approaches to education, advocacy, and philanthropy so they can continue to improve their patients' vision, outcomes, and overall quality of life. Dr. Samuelson held previous roles such as the ASCRS Glaucoma Clinical Committee Chairman and was named ASCRS president in 2018. He was also a member of the ASCRS Governing Board. As the new program chair, his goal is to continue to make strides that will improve surgical options for the benefit of patients.
"I will work closely with my program committee to bring creative, cutting-edge, educational programming to ASCRS members. Ophthalmic surgery is high tech and ever changing. We will continue to connect ASCRS surgeons with our innovative industry partners to advance surgical options for our patients," Dr. Samuelson said.
In addition to his leadership roles, Dr. Samuelson regularly plays a significant part in educating the ophthalmic community. At the ASCRS meeting in May 2023, Dr. Samuelson co-authored two paper sessions on glaucoma and was a panelist for a main-stage lecture. He also delivered the glaucoma presentation during the inaugural Lindstrom Symposium at the 2021 ASCRS Annual Meeting.
Our physicians at Minnesota Eye Consultants are committed to making a positive impact in the ophthalmic world by networking, educating, researching, participating in innovative technology, and more. Dr. Samuelson is a textbook example of how Minnesota Eye Consultants continues to play a significant role at the national level in both ophthalmology and optometry.
"Our practice has had two ASCRS Presidents and several of our MDs and ODs have national and international prominence of which we can all be very proud. Minnesota Eye is well known around the globe for excellence in medical and surgical eye care," Dr. Samuelson said.
---