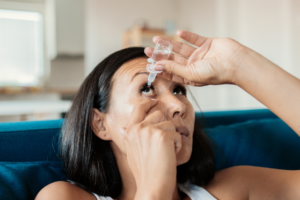 Vuity is the first and only FDA-approved eye drop to treat age-related Blurry Near Vision (presbyopia) in adults. With these new eye drops, adults with presbyopia (farsightedness), could improve their near vision for several hours, eliminating the need to wear reading glasses during that time. Vuity's eyedrops have been found to work in as little as 15 minutes, with effects that last up to six hours, according to clinical trial data presented at the annual meeting of the American Society of Cataract and Refractive Surgery this past summer.
Who can use Vuity?
Vuity was FDA-approved for patients aged 40-55 diagnosed with Presbyopia.
How do Vuity eye drops work?
Vuity eye drops work by reducing your pupil size. It contracts certain muscles in the eye to help you see up close. For patients with presbyopia, Vuity improves your ability to see up close while maintaining distance vision. The recommended dose is one drop once daily in each eye. If more than one topical eye medication is being used, administer at least 5 minutes apart.
Are there any side effects?
The most common side effects were headache and eye redness. This is not a complete list of side effects. Talk to your eye doctor and see the Important Safety Information and the full Prescribing Information for complete safety information.
Do I need a prescription to get Vuity?
Vuity medication requires a prescription before it can be obtained at a pharmacy. Schedule an appointment with one of our providers today and see if this drop is right for you!
Sources: VUITY™, American Academy of Cataract and Refractive Surgery
---