April – Sports & Safety Month
100,000. That figure represents the estimated number of eye injuries endured every year as a result of playing sports. Of those 100,000 eye injuries, approximately 42,000 people find themselves rushing to the ER for treatment. Sadly, it's estimated that 13,000 folks will loose their vision as a result of these incidents.
Sure, we all understand the importance of wearing protective eyewear to prevent ourselves from becoming one of these statistics, but how do you know what the best approach is for you and your family? With the levels of physical contact and environmental hazards varying amongst different athletic activities, it's hard to know what's right for you.
Depending on what sports you or your children take part in, the answer may vary. Here's a quick reference guide with the recommended protection.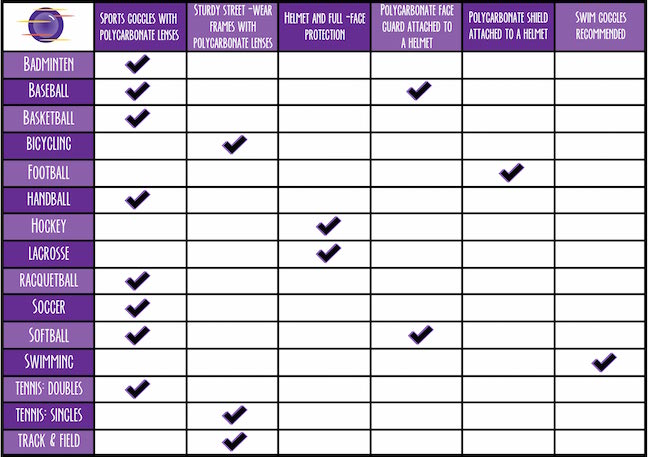 The most common form of protection is a quality pair of sports goggles with polycarbonate lenses. Polycarbonate lenses are lightweight and offer impact resistance along with UV Ray protection without compromising your field of vision.
Wearing your regular day-to-day glasses during physical activities is not recommended. They aren't designed to withstand impact and the lenses could easily pop out and cause injury to the eye and surrounding area.
Speak with your eye care expert to ensure the recommendations above are right for you!
**Information from the National Eye Institute and VSP Vision.