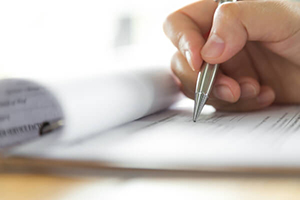 You have finally decided to ditch your contacts and glasses for good and upgrade your vision with LASIK. You have scheduled your consultation, but you probably still have many questions. What is the procedure like? What should I expect? Don't worry – take a deep breath. Here is everything you can expect during your LASIK consultation at Minnesota Eye Consultants.
Testing With A Technician
Now that you have done your research, it is time for you to attend your LASIK consultation. When you first get to our office you will be brought into an examination room. No need to panic! All of these tests are not invasive so you won't experience any discomfort. At this point, an experienced technician will exam your ocular health. They will look at your cornea to evaluate the shape and thickness. This is done using WaveScan, which is a machine that captures the shape of your eye and gives the technician a full understanding about your eyes.
Refraction and Dilation
At this point in the consultation, the technician will review your eye prescription. You may be familiar with this part from previous eye exams. This is when the technician will change the lens asking you which one looks more clear. During this stage, we will also dilate your eyes for a more in depth examination. This is done using drops, they will take 15-20 minutes to fully set in allowing some time for you to relax.
Physician Exam
After your pupils are dilated, you will go back into an examination room where you will be seen by your LASIK Surgeon. Your surgeon will examine your eyes using a high-intensity light microscope. By using this microscope your surgeon will be able to rule out any eye diseases and issues that would disrupt the LASIK procedure.
Discussion
At this stage in your LASIK consultation, your surgeon will get the chance to learn more about you and your expectations of the procedure. You should be ready to answer questions about your lifestyle, hobbies, and overall goals of LASIK. By doing this the surgeon will be able to understand your expectations and need for the procedure. The discussion is a good opportunity for you to ask any questions you might have about the procedure.
Scheduling Surgery
Once this is all over and you have been approved for LASIK, you can meet with our surgery schedulers. This is a good time for you to review pricing, find a surgery time that fits your schedule, as well as ask any additional questions you may have for us.
LASIK is a very safe and effective procedure but it is still a surgery and we understand the fear people may have. We want to make sure you feel as comfortable as you possibly can coming into your surgery day. If you want to learn more about LASIK feel free to reach out to us with any questions or comments you have.
---