New Treatments In Glaucoma
With new research and advancements in technology becoming available each and every day, we strive to offer the newest, safest and most efficient instruments and procedures to our patients. Here are a few recent developments in the world of glaucoma treatment that we are happy to offer at Minnesota Eye Consultants.
XEN Gel Stent
The XEN Gel Stent is a new procedure that is most analogous to a Trabeculectomy/ExPress Shunt. It is, however, much more refined and less invasive than Trabeculectomy. The XEN Gel Stent is ideal for patients with more advanced glaucoma and can be used as a standalone procedure independent of cataract surgery. Like Trabeculectomy, the XEN Gel Stent forms a filtration bleb, intended to significantly reduce and sustain the patient's intraocular eye pressure. Although this treatment does have a slower visual recovery than the iStent procedure, it likely lowers pressure more effectively (although there are no comparative studies). The pliability and softness of the gel stent allows it to conform to the tissue within the eye and minimize complications related to synthetic materials. The XEN Gel Stent has been approved in Europe and in Canada for many years and has been used extensively in these regions of the world.
MicroPulse
The MicroPulse laser treatment is a non-invasive therapy that delivers repetitive, low-energy laser 'micropulses' above and below the iris, with the goal of lowering the patient's eye pressure. This treatment is performed within the OR so anesthesia can be administered during the procedure. Some perks to using this laser system is that the procedure is repeatable and the patient's downtime after is minimal. Most patients do not experience pain after the therapy, but may be asked to wear a patch for the remainder of the day.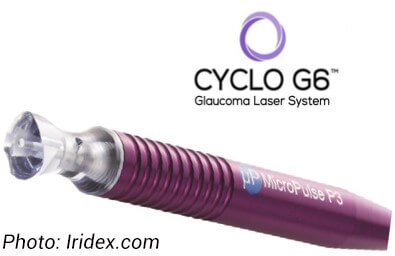 GATT (Gonioscopy-Assisted Transluminal Trabeculotomy)
GATT is a modified Trabeculectomy – a glaucoma procedure commonly performed at Minnesota Eye Consultants. A Trabeculectomy creates a new drainage system from the eye's natural tissue for the aqueous humor (the transparent fluid within the eye that can cause high pressures) to exit, while the GATT procedure aims at enhancing the patient's own natural drainage system. Through a small incision, a tiny catheter is placed and rotated around the Schlemm's canal 360 degrees. This minimally invasive surgery treats patients with open angle glaucoma and is performed within our Ambulatory Surgery Centers.
Kahook Dual Blade (KDB)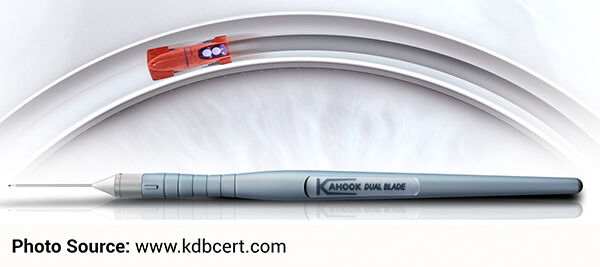 The Kahook Dual Blade (KDB) is an ophthalmic blade that makes parallel incisions in the trabecular meshwork and inner wall of the Canal of Schlemm. Incisions created with this device precisely remove tissue from the meshwork and as a result, help reduce intraocular pressure behind the eye. On the day of the procedure, the surgeon will determine whether or not this innovative surgical tool will be beneficial during the surgery. Currently, this device is available at our Ambulatory Surgery Centers.
Sources: medgadget.com, glaucomaassociates.com, www.eyeworld.org, www.kdbcert.com, iridex.com and aquesys.com
Related Links