New Treatments in Glaucoma
With new research and advancements in technology becoming available each and every day, we strive to offer the newest, safest and most efficient instruments and procedures to our patients. Here are a few recent developments in the world of glaucoma treatment that are now being offered at Minnesota Eye Consultants.
CyPass Micro-Stent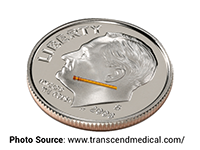 This micro-invasive surgical device is used for patients suffering from mild to moderate open-angle glaucoma. Intraocular pressure is reduced when the tiny stent creates a channel for liquids to exit from the inner chamber of the eye. The CyPass Micro-Stent is done in conjunction with Cataract Surgery, so patients must also have the need for cataract removal in order to qualify. Recently approved by the FDA, many insurance companies are still considering this procedure "investigational", however we are doing our best to obtain Prior Authorizations and acquire reimbursement for patients undergoing this procedure. (Pictured above is the CyPass Micro-Stent in comparison to a dime.)
GATT (Gonioscopy-Assisted Transluminal Trabeculotomy)
GATT is a modified Trabeculectomy – a glaucoma procedure commonly performed at MN Eye Consultants. A Trabeculectomy creates a new drainage system from the eye's natural tissue for the aqueous humor to exit (the transparent fluid within the eye that can cause high pressures), while the GATT procedure aims at enhancing the patient's own natural drainage system. Through a small incision, a tiny catheter is placed and rotated around the Schlemm's canal 360 degrees. This minimally invasive surgery treats patients with open angle glaucoma and is performed within our Ambulatory Surgery Centers.
Kahook Dual Blade (KDB)
The Kahook Dual Blade (KDB) is an ophthalmic blade that makes parallel incisions in the trabecular meshwork and inner wall of the Canal of Schlemm. Incisions created with this device precisely remove tissue from the meshwork and as a result, help reduce intraocular pressure behind the eye. On the day of the procedure, the surgeon will determine whether or not this innovative surgical tool will be beneficial during the surgery. Currently this device is available at our Ambulatory Surgery Centers.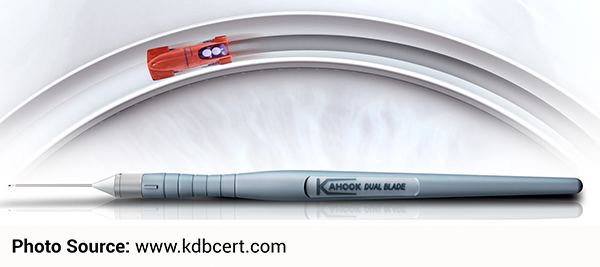 Speak with your glaucoma surgeon to see if you qualify for any of these advanced procedures.
Sources: medgadget.com, glaucomaassociates.com, www.eyeworld.org, www.kdbcert.com