Pre-LASIK Jitters: 4 Things You Can Do to Calm Your Nerves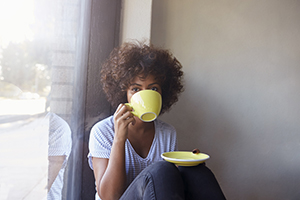 LASIK surgery is considered one of the safest and easiest surgeries to undergo. While this may be true, it doesn't always do much to calm the nerves of the patient before taking the plunge. We get it, surgery is scary and can be very nerve-wracking, no matter how irrational those fears may be.
Being nervous before a significant event is normal. In fact, if you were not even a little bit nervous before LASIK, we would consider that quite abnormal! If you would like to quell that pre-LASIK nervousness, here are 5 things you can do to calm yourself down.
Stick To Your Routine
Most people are very attached to their routines, and deviating from those routines can cause unnecessary stress. In the days leading up to your LASIK surgery, keep your everyday routine as you usually would. If you find yourself dwelling too much on your upcoming surgery, try to shift that focus to your to-do list for the day. The less you think about your surgery day, the less nervous you will be.
Know Exactly What You're Getting Into
If you're undergoing LASIK surgery, be sure to do all of the research you can. Ask your doctor as many questions as you need. Knowing exactly what to expect in the operation room is very important. For many people, this is enough to calm their nerves quite a bit. But even if it doesn't help calm your nerves, it's still good to know the ins and outs of LASIK surgery!
Our LASIK surgeons at Minnesota Eye Consultants are dedicated to providing expert care and keeping their patients updated every step of the way. They are happy to answer as many questions as you can come up with!
Meditate
Some people may find this silly, but taking a few moments each day to dedicate to meditation can be extremely helpful for nervousness. If you are new to meditation, there are many resources you can use to get you started. It doesn't have to take long either! Many people meditate for short periods throughout the day. This can work wonders for stress in all areas of your life, including your pre-LASIK nervousness.
Be Prepared
Before your LASIK surgery, your doctor will give you a list of ways you should be prepare for your surgery day. If you wear contact lenses, you'll be asked to discontinue use for up to 2 weeks prior to your surgery. This is because the surface of your cornea changes the longer you wear contact lenses. Your cornea will need time to revert to its natural state before surgery.
Other ways you can prepare include:
Not using makeup, lotions, creams and perfumes the day of your surgery
Arranging a ride home after your surgery
Getting your prescriptions the before your surgery day, if possible
Preparing your home for your rest period after your surgery (finish up errands, pick out an audiobook to listen to, make a pre-cooked dinner, etc.)
Being completely prepared for your surgery day and your post-LASIK care can be very comforting. It can also mean you're prepared for a fast and easy recovery!
Remember, our LASIK surgeons and staff at Minnesota Eye Consultants are here to make sure you are as comfortable as possible. Before your procedure, you will be given a mild sedative to relieve any residual nerves.
Contact Minnesota Eye Consultants today to schedule your LASIK consultation, or if you have any questions about your upcoming LASIK surgery. Our Minneapolis LASIK surgeons are here to ensure you have the best LASIK experience possible! We look forward to hearing from you.