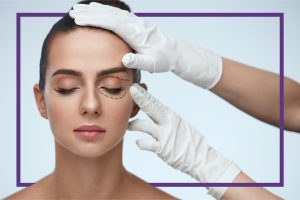 As masks become the new way of life around the world, now more than ever, people are focusing on their eyes. This has led to a rising interest in cosmetic eyelid surgery, and we're happy to be able to provide this service to our patients at Minnesota Eye Consultants.
What is it?
As the name suggests, eyelid surgery – or blepharoplasty – is a procedure to improve the appearance of the eyelids. Our eyelids tend to stretch as we age, thereby weakening the muscles supporting them. This can lead to sagging eyebrows, droopy upper lids, and bags under the eyes. Depending on the needs of the patient, the surgery can be performed on the upper or lower lids, or both.
How does it work?
A small incision is made in the eyelid, along its natural crease. Skin, muscle, and fat are removed from the eyelid, and the tissues are closed with sutures. The procedure takes roughly an hour to complete – a bit longer if both eyelids are being operated upon – and while patients are not put entirely to sleep, they are kept sedated and painless throughout the process.
Why now?
The rise of masked interactions isn't the only reason now is the perfect time to pursue eyelid surgery. Following the procedure, bruising tends to occur for 2-3 weeks, which might be irksome under normal circumstances. This bruising is due to the eyelids being the thinnest skin in the body, making everything going on underneath all the more visible.
However, with so many people hunkering down and staying home as much as possible, patients have found this to be the ideal time to stay at home and recover peacefully, without having to worry about family, friends, or coworkers noticing any of the aftereffects of the surgery. Ice is also hugely helpful in keeping swelling to a minimum, so being in close range of your freezer is useful for more than just grabbing a sweet treat!
But what about the cost?
Another bonus: Many patients are surprised to discover that their eyelid surgery may be covered by insurance. Because drooping eyelids often interfere with vision, correcting the issue can be deemed medically necessary. To know for certain whether your surgery might be covered by insurance, you'll want to meet with your provider to ensure medical necessity would be appropriate in your case.
Even if insurance does not cover the procedure, financing is always available to assist patients looking to spread their payments out over time. We work with both Care Credit and Alphaeon to offer our patients deferred-interest financing for 6, 12, 18, and 24 months, so if you're curious about the procedure but worried about the cost, reach out to our team today to schedule a consultation and discuss all of your financial options.
How do I get started?
Call us today at (952) 888-5800 to schedule a consultation or request an appointment through our online portal. However you choose to do it, we're eager to assist you in reaching your goals. Our team is here to help you look as good as you feel!
---