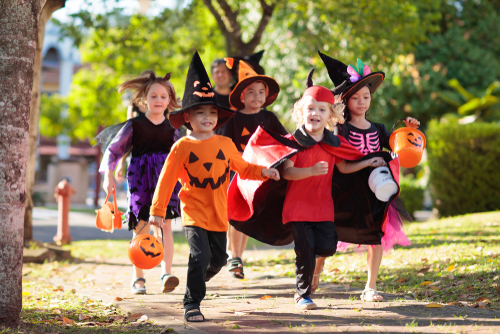 Everyone's favorite holiday filled with tricks and treats is almost here! October is Halloween Eye Safety Month, so here are some tips that will keep your kids safe this Halloween!
Be Safe Outside
When it comes to trick or treating, it's important to be safe when you're outside. Your kids may want to wear dark, spooky costumes, but their safety comes first.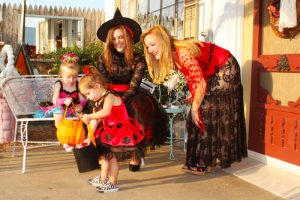 If you have to trick or treat while it's dark out, carry a flashlight. If you have a group of kids with you, it's better to have a flashlight for each child to ensure they are being seen by motorists on the road.
No matter how busy you may be during Halloween, you should never let young children go trick or treating alone. They should always be accompanied by at least one adult for their safety.
If you have older children that want to trick or treat without parents, make sure they are doing so with a group of kids. Even if they are older, they still shouldn't be trick or treating alone.
Buy Costumes That Are Easy To See Out Of
Children of any age love Halloween and taking the opportunity to dress up and pretend to be someone else! When buying costumes, safety is very important.
When possible, try to avoid costumes with masks, eye patches, or floppy hats. Kids especially need to be able to see when they are walking around after dark.
If your child wants to buy a costume that has a hat, make sure the hat fits well. It should not fall off easily, and the hat should be safely secured to their head.
Props are always a fun part of any costume, but they can also become dangerous in an instant! Avoid the following:
● Wands
● Swords
● Toy guns
● Spears
These props are a danger to other children's eyes, as well as your own children's eyes.! It's best to avoid buying these props altogether and keep everyone's eyes safe.
Be Extra Careful With Halloween Makeup
Makeup can be an alternative if you don't want your children wearing masks that make it difficult to see. But with makeup come other things you need to keep in mind.
If you have young children who will be wearing makeup, make sure you are the one applying it. Young children are not skilled at applying makeup and may accidentally poke themselves in the eye. Avoid a trip to the emergency room and apply it instead, while avoiding their eyes.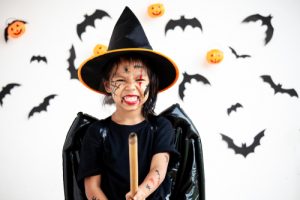 Another thing you need to keep in mind is what kind of makeup you're using. It may be tempting, but you shouldn't pull out last year's old Halloween makeup.
Even if it "looks" okay, there's no way to know if that makeup could be harboring bacteria. To avoid eye infections, always stick to brand new, hypoallergenic makeup.
You should always throw away your makeup from Halloween after three months, just to be safe.
Don't Wear Cosmetic Contact Lenses Unless You Have A Prescription
What could be more fun than having cat eyes or vampire eyes that go with your costume on Halloween? They may seem fun, but cosmetic contacts are nothing to fool around with if you don't have a prescription.
The only time you should wear them is if you have a prescription from your family eye doctor.
If you see cosmetic contacts at party stores, online, or through street vendors, don't buy them. They are dangerous and illegal!
Cheap cosmetic contacts are often manufactured in other countries, so there's no way of knowing if they have been manufactured with FDA standards in mind.
When you buy cheap cosmetic contacts, they may not fit your eyes correctly. Poorly fitting contacts can result in corneal scratches or ulcers causing injury to the cornea. You could also suffer from other complications like:
● Bacterial infection
● Permanent loss of vision
● Conjunctivitis
It's not worth it to suffer potential complications when you can get cosmetic contacts from your eye doctor for Halloween!
Follow Good Eye Care Hygiene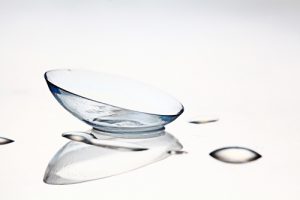 After an eventful night of trick or treating, it can be very tempting to go right to bed. Make sure you follow these eye care tips first for eye care hygiene.
If you do have a prescription for cosmetic contact lenses, follow the instructions given by your eye doctor on how to properly wear them. Wearing contacts the wrong way can damage your eyes. Below are some important guidelines:
● Don't sleep in your contacts, as it depletes your eyes of oxygen.
● Always wash and dry your hands before handling your contacts.
● Only use fresh solution to clean and store your contact lenses.
Even if you didn't wear contacts, it's important to treat your eyes with TLC. If you put on makeup for a Halloween costume, make sure to remove it before bed.
To avoid irritation, remove your makeup using cold cream instead of makeup remover. If you put any makeup on your children, make sure to remove it from their face and body with cold cream as well.
Ready for Halloween but looking for cosmetic contact lenses to complete your costume? Schedule an appointment at Minnesota Eye Consultants in Minneapolis, MN! We hope you have a spooky and safe Halloween!
---