Implantable Miniature Telescope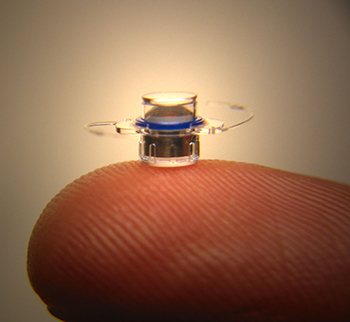 End Stage Macular Degeneration can be frustrating and debilitating for patients living with the disease. Severe vision loss is often present as a result of the macula at the back of the eye being damaged. The ability to see straight ahead has been stolen, replacing the center of the patient's vision with a grey or black spot.
Unfortunately, there are no treatment options to reverse this condition, but there may be an opportunity to help improve the vision that's remaining. The CentraSight Implantable Miniature Telescope is a device that can be implanted inside one eye, expanding the central image beyond the damaged portion of the macula, so objects straight ahead can once again come into focus.
Although effective, this treatment program does require a few steps, and rehabilitation is necessary after the device implantation.
For more information on the CentraSight Implantable Miniature Telescope, visit www.centrasight.com. To see if you're a candidate for this astonishing new technology, call 1-877-997-4448.