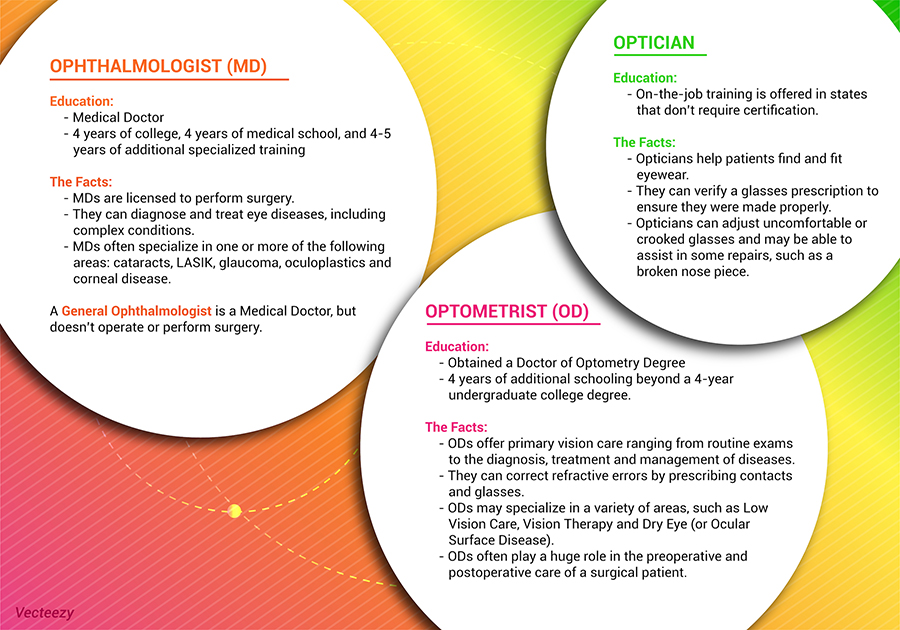 Ophthalmologist vs. Optometrist vs. Optician – what's the difference?! We get that question a lot and hope to clear things up a bit. The bottom line is all three of these healthcare professionals work together as the ultimate eye care team, each offering unique services and keeping the other team members up to date on the patient's progress.
Here's an example of how a patient may encounter all three professionals: While an optometrist (OD) is performing a routine eye exam, he/she notices the patient has significant cataracts and refers the patient to an ophthalmologist (MD) who has specialized training in the removal of cataracts. If after meeting with the ophthalmologist, the patient elects to move forward with cataract surgery, the ophthalmologist and optometrist often share in the pre and postoperative care of the patient, hoping to meet all of the patient's eye care needs as efficiently as possible. Following surgery, the patient may need a new pair of glasses. That's where the optician comes in and helps educate the patient on what the insurance company may cover and helps the individual find the perfect pair of spectacles. Here at Minnesota Eye Consultants, our physicians are happy to provide patients with a paper copy of their prescription, so they can have their glasses made at their family eye clinic or whatever optical shop they prefer.
Although there are a large number of responsibilities and differences between these professions, here are just a few of the main points to help decipher between them.
Ophthalmologist (MD)
An ophthalmologist is a Medical Doctor who specializes in eye care. The education required is quite extensive and includes 4 years of college, 4 years of medical school, and 4-5 years of postgraduate training, often involving residency, internship and fellowship training.
In addition to offering routine eye exams and glasses prescriptions, Ophthalmologists are licensed to perform surgery. They often will co-manage the pre and postoperative care of their surgical patients with the optometry team, depending on each particular surgery and situation. Ophthalmologists have the ability to diagnose and treat eye diseases, including complex conditions. They often have subspecialties such as disease management or oculoplastic surgical skills, in which they spent additional time training and focusing on. Some of the subspecialties offered by the ophthalmologists at MN Eye Consultants include cataracts, LASIK, glaucoma, oculoplastics and corneal disease. Patients are often referred to our ophthalmologists when a surgical need arises or if there's concern about a potential eye disease or condition present. A General Ophthalmologist is a Medical Doctor as well, but doesn't operate or perform surgery.
Optometrist (OD)
An optometrist is an eye doctor who has earned a Doctor of Optometry (OD) degree. This is a four-year degree in addition to their standard college degree.
They perform routine eye exams, assess vision and health problems, diagnose and manage eye diseases to a certain degree, and help to correct refractive errors by prescribing and fitting contact lenses and eyeglasses. Although some Ophthalmologists prescribe and fit contacts, at MN Eye Consultants, our optometrists are the only ones prescribing contacts. If you need an eye exam and would like to discuss contacts, please be sure to schedule your visit with an optometrist. Similar to ophthalmologists, optometrists can specialize in a variety of areas, such as Low Vision Care, Vision Therapy and Dry Eye (or Ocular Surface Disease). Although unable to perform surgery, optometrists often play an important role in the preoperative and postoperative care of a surgical patient.
Optician
Depending on the state, opticians may be required to undergo training & certification prior to employment, while some states will offer on-the-job training.
Opticians are an important part of the eye care team, as they help patients fit and find eyewear that best suits their needs. They are trained to verify a glasses prescription to ensure the eyewear was made properly and can adjust glasses that have become crooked or uncomfortable for patients. Specific eyewear needs, such as custom safety glasses, can also be ordered through the opticians.
Sources: www.aapos.org, www.allaboutvision.com
---