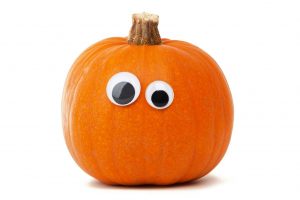 The American Academy of Ophthalmology (AAO) has designated October as Halloween Eye Safety Month. While most people are familiar with more general Halloween safety tips – look both ways before crossing the street, keep an eye out for kids while operating a vehicle, make sure candy is unopened – they might be less in-the-know about how to keep their eyes safe! What risks could Halloween pose to someone's eyes? You might be surprised.
Beware of costume contact lenses.
The number-one reason for the AAO's October warning is the availability of non-prescription costume contact lenses. It's all too easy to find products online to give your eyes the look of a cat, a zombie, or any other creepy character, but the risks of serious damage to your eyes greatly outweigh the chance to win a costume contest with these illegal products.
That's right –illegal. Over-the-counter costume contact lenses are illegal due to their use causing varying degrees of damage, even if only worn for a short time:
Eye infections.
Scratched corneas.
Corneal ulcers.
Blindness (in severe cases).
We generally don't recommend wearing contact lenses solely for cosmetic reasons, but if you're determined to add that extra level of detail to your costume, we urge you to first speak with your eye care provider to find out what safe options you have.
Avoid other eye irritants.
Non-prescription contact lenses aren't the only risks to eye health. If your costume involves a full face of make-up, you'll want to check the ingredients to ensure the materials are non-toxic. And once the evening comes to a close (which might be earlier than usual, given social distancing guidelines), make sure you remove all of that make-up before bed to prevent skin and eye irritation.
Another offender here is the crisper, cooler air that comes with fall. With autumn breezes come dry, cold air, often causing dry eyes. If you find yourself frequently experiencing dry eyes as the cooler months settle in, speak with your doctor about steps you can take to reduce them – especially if you're planning to be outside for an extended period of time come Halloween night.
Eat eye-friendly foods.
In the midst of all of these warnings comes some good news: The fruits and vegetables native to fall are full of antioxidants like Vitamin C, Vitamin A, and other nutrients, which are ideal for continued eye health.
Great examples of eye-friendly vegetables are squash, turnips, and cauliflower, while fruits include apples, pears, and pomegranates. The presence of apples on this list makes a great argument for apple-bobbing, though given the current health climate, make sure to use individual bowls or buckets for each participant to avoid sharing germs.
Whatever your plans for this Halloween are, we hope you stay safe and healthy. Millions of people look forward to Halloween every year, and there's no reason we shouldn't all be able to celebrate it without putting a strain on our eyes.
---