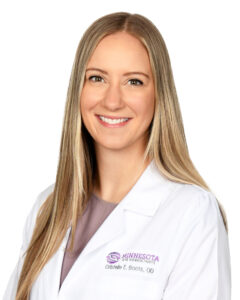 Please help us welcome Dr. Cristelle E. Boots to our Doctors of Optometry team! She joins us from Indiana, formerly with Boling Vision Center. Dr. Boots will be caring for patients out of our Blaine and Woodbury offices, specializing in Primary Eye Care and Dry Eye.
Dr. Boots earned her undergraduate degree in Psychology from the University of Winnipeg and received her Doctor of Optometry degree from Illinois College of Optometry. She has completed four externships: The Eye Centers of South Florida Dan and Hoffman, Miami, FL, the Illinois Eye Institute, Chicago, IL, Boyco Image Optometry, Vancouver, and William Chapel Jr. Veterans Outpatient Clinic, Daytona Beach, FL. Following graduation, Dr. Boots worked with ophthalmologists in Indiana, seeing a lot of complex ocular disease such as glaucoma, macular degeneration and diabetic retinopathy and doing pre and post op surgical care.
Dr. Boots is an active member in the Optometry community and is currently a member of the Minnesota Optometric Association, American Optometric Association, and the National Optometric Association.
Get to Know Dr. Boots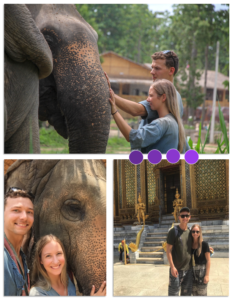 Originally from Canada, she moved to Minnesota to be closer to family. Dr. Boots got married in October 2019, and her husband is actually an Optometrist as well. Following graduation from optometry school, Dr. Boots and her husband took a 5-week trip to Thailand and Vietnam – some photos are to the right! In addition to her love for traveling, here are a few more fun facts about Dr. Boots:
She's

fluent in English and French

, both written and spoken.

Dr. Boots is a

fitness enthusiast

, formerly an elite gymnast,

representing Team Manitoba 2004-2008

.

She volunteered as a

youth soccer coach for the Special Olympics

Manitoba in 2014-2015.

Cheering on the

Winnipeg Jets

is a favorite pastime.
"I am fortunate to have had the opportunity to work with many exceptional doctors who have encouraged and supported my passion, providing me with an invaluable knowledge base and reinforcing my diagnostic, communication, leadership and patient-doctor relationship skills. My goals are to use these skills, combined with an outstanding educational foundation, in providing the highest quality of patient care in all areas of optometry." – Dr. Cristelle E. Boots
---