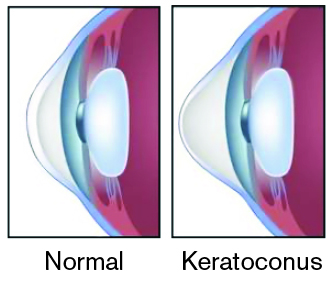 Keratoconus is a progressive eye disease that results in a thin, cone-shaped cornea that often bulges outward, leading to distorted vision. Something important to be aware of is the strong hereditary correlation between Keratoconus individuals and their family history.
At Minnesota Eye Consultants, we strive to provide excellent eye care to not only our patients, but our patients' families as well. As a result of this relationship, we suggest that children and relatives of those diagnosed with Keratoconus be seen for an eye exam with their primary eye care provider. This disease is often thought of as a "young person's disease" as it tends to be more prevalent in individuals in their teens and twenties and the progression often occurs more rapidly in younger generations. Keratoconus is a progressive disease and because of concern about the possible continued deterioration of vision over time, early detection and management is incredibly important.
If you or a family member has been diagnosed with Keratoconus, we'd like to encourage an appointment for your other relatives, especially the younger members of your family, for further screenings and closer corneal evaluation. We recommend you schedule this appointment with your regular family eye doctor. To find an Optometrist office near you, visit our Affiliated Doctors page. If you'd like to see one of the Doctors of Optometry at Minnesota Eye Consultants, we'd be happy to serve your family. Our scheduling specialists can be reached at 952-888-5800.
---